Why Aren't Portland Home Prices Crashing?

Hey there, fellow Portlanders! Have you been keeping an eye on the housing market lately? With all the recent shifts, you might be wondering why home prices aren't crashing like some predicted. Well, let's dive in and take a closer look.
First off, we all know that mortgage rates rose dramatically last year, making it harder for many people to buy a home. Plus, after several years of rapid price appreciation, home prices finally peaked last summer. But even with these changes, prices have remained relatively flat at the national level. Lawrence Yun, Chief Economist at the National Association of Realtors (NAR), believes that will continue:
"Home prices will be steady in most parts of the country with a minor change in the national median home price."
So, why aren't sellers lowering their prices to attract buyers in today's market? Well, it turns out there's another factor at play: low inventory. Yep, we've been at or near record-low inventory levels for a few years now. And according to Yun, that's limiting just how low prices will go:
"We simply don't have enough inventory. Will some markets see a price decline? Yes. [But] with the supply not being there, the repeat of a 30 percent price decline is highly, highly unlikely."
In other words, if more homes don't come to the market, a lack of supply will keep prices from crashing. And, unfortunately, inventory isn't likely to rise significantly this year, according to industry expert Rick Sharga:
"I believe that we're likely to see low inventory continue to vex the housing market throughout 2023."
As you can see in the graph below, we've been at or near record-low inventory levels for a few years now.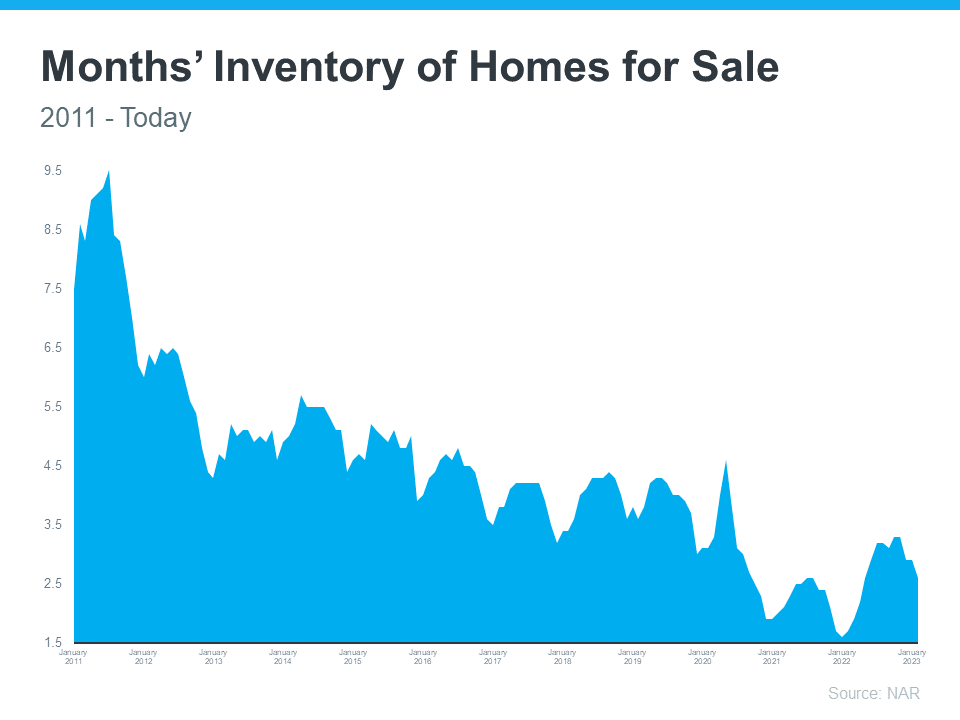 So, what does that mean for sellers? Well, since they have plenty of equity right now, and with many are locked into low mortgage rates, most homeowners are under no pressure to move. At the same time, there are still a lot of people who will sell this year. Whether they need to downsize to a smaller home, have a growing family and need more space, or are ready for a change of scenery, there will always be people selling.
If you're in the market for a new home, it's more important than ever to work with a trusted real estate agent who knows your preferred neighborhood and can navigate the current market to help you find the right home at the right price.
In conclusion, a lot of people were expecting prices to crash this year, but that isn't happening. Why? There simply aren't enough homes for sale. So, if you're thinking about making a move this spring, be prepared for a competitive market. And don't forget to give your Lovejoy Real Estate agent a call – we'll be your secret weapon in this crazy market!